Post-Secondary Education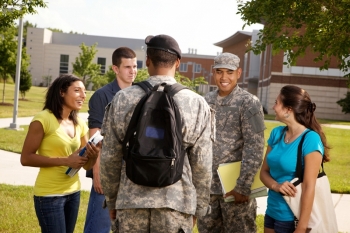 Colleges and universities throughout the nation are helping student service members and veterans achieve their post-secondary education goals. These students often received mastery-based training during their military service. However, they may find it difficult to transfer it for academic credit. In addition, veterans and service members may need to refresh skills associated with academic success. Student service members and veterans are likely to be considered non-traditional students. As such, they are probably juggling multiple roles, including those of spouse, parent and full- or part-time employee.
Post-Secondary Indicators
Our interactive tools can display:
VA educational benefits administered annually by county;
Institutions participating in the Yellow Ribbon Program by county;
Educational benefits for service members or veterans by state; and;
Institutions participating in the Department of Defense Educational Partnership.
How to Navigate
Example By Map
Example By Table
Example By Graph
Explore
By Map
By Table
By Graph
Indicator Definition and Data Sources
VA education benefits
Definition: Education and Vocational Rehabilitation and Employment (E&VRE) are separate programs, but are combined into one category for reporting purposes.
Source/Date: Department of Veterans Affairs/2010-2017
View: Map or table
Map Display: Thematic
Yellow Ribbon institutions
Definition: Degree-granting institutions of higher learning participating in the Post-9/11 GI Bill Yellow Ribbon Program agree to make additional funds available for your education program without an additional charge to your GI Bill entitlement.
Source/Date: Department of Veterans Affairs/2017
View: Map or table
Map Display: Location
DoD Voluntary Education Partnership Institutions
Definition: These institutions participate in the Department of Defense (DoD) Tuition Assistance Program, and thus adhere to specific guidelines set out by the DoD.
Source/Date: Department of Defense/2014-2015
View: Map or table
Map Display: Location
State benefits - post secondary education
Definition: State post secondary education benefits for service members, veterans and/or family members.
Source/Date: Data located at the website of each state's government veterans department/July 2018
View: Table
Map Display: None